The landlord is notified that you have placed a holding deposit and they have 96 hours to make a decision on your application - you will be notified as soon as they have done so. You can refer to the next stages of Rent Now here.
In the event that no action is taken on your holding deposit, we'll automatically return this to you after 96 hours. It's always best to contact the landlord directly to get things moving with your application. They can cancel your application if they do not wish to progress/use Rent Now to create the tenancy which will refund the deposit to you automatically - OpenRent can't do this for them.
If 24 hours have passed since you placed the deposit without a response from the landlord, and you wish to withdraw your offer, you will be able to here. Press the black "see cancel options" button, and then tick to confirm you are retracting and cancel as shown below.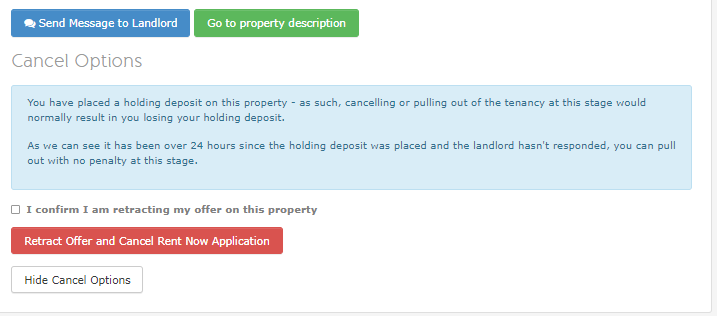 If the landlord has accepted your deposit and progressed to referencing or issuing the contract, you would need to speak with them directly about cancelling the application. You can see how the holding deposit is treated here.
- Message the landlord directly here
- How will my holding deposit be treated?