We know that many landlords will have tenants who are affected by coronavirus and who want to be sensitive to their situation. Many landlords will already have made temporary arrangements to allow tenants to pay reduced rent during the emergency. This means landlords may wish to stop chasing tenants for the rent for the next few months.
We've made this easy to do by adding a 'pause' feature to our rent collection tool. Once activated, the pause will stop tenants being chased for rental payments, while automatically keeping track of however much rent they do pay. That will make it easy to work out repayment plans later, or to know how much rent has been forgone as part of any agreement between tenant and landlord.
It's not currently possible to reduce the amount of rent asked for as part of our rent collection service; but we have just released a new feature which means you can now pause the rent collection reminders and chase emails.
Any payments your tenants do make will be passed to you in the normal way.
Please note, this does not affect the tenant's obligations listed in your tenancy agreement - only OpenRent chasing them for the payments due.
You can proceed to pause the Rent Collection service by heading to your 'My Tenancy' page.
Select the correct tenancy, and scroll down to the 'Rent Payments' area.

Once you click to view the current payment status, you will see the option to pause rent collection.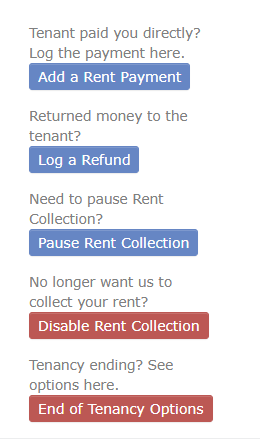 It's that simple.
If you do choose to reduce your rental amount we would recommend that you also contact your deposit protection provider to confirm if any adjustments need to be made during the period of reduced rent.
If you have not yet made any new arrangements with your tenants, but wish to do so, then this can be done by getting everyone's agreement in writing. You do not need to sign a new tenancy agreement.
More Information: