For any OpenRent user
If you are looking to change your email address and/or phone number, these details will need to be verified. Please make sure you have access to your new email account or new phone number so you can receive and enter the verification code we send you.
You are able to change your name and email details by:
1. Logging in to your OpenRent account here.
2. Entering your new details.
3. Confirming this by selecting the green 'Update' tab.
4. If updating your email, pressing the link in the email you will have been sent to verify your email address.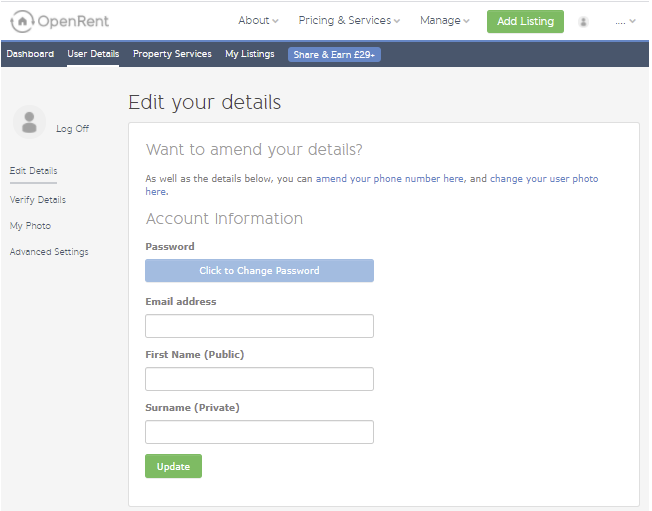 You can update your phone number by:
1. Pressing 'Verify Details' in the left toolbar.
2. Entering your number and pressing the green 'Send Code' tab.
3. Entering the SMS code to verify your number.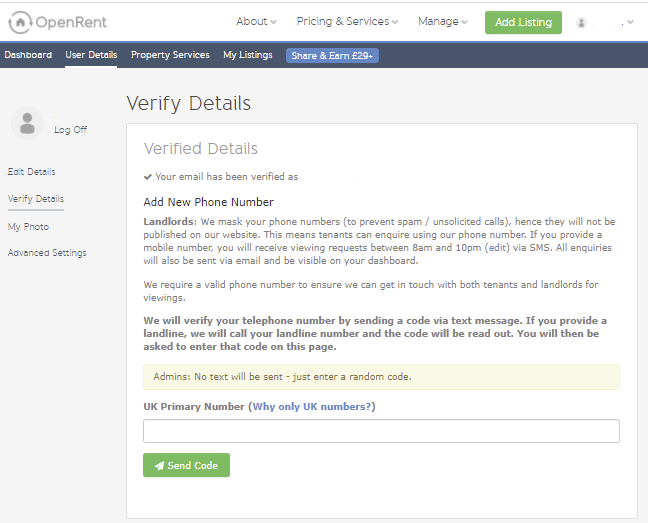 Do you have an ongoing Rent Now application?
If you need to change your details during an ongoing application you will need to follow the process above to change the name on your OpenRent account, which will reflect across the tenancy agreement and your referencing report (providing referencing hasn't been completed yet).
Are you currently undergoing referencing?
If your referencing report is already underway, or has already been completed, you will need to get in touch with our referencing partners to make an edit on your report. You should follow the steps above to edit your details before getting in touch with them.
- Edit my account phone number