If something isn't right on your application the likelihood is that you can change it, the lead tenant on your application can change it or your landlord can change it. We've outlined the different stages of the Rent Now process below, and how you can make any changes in each stage.
1. Just placed a holding deposit
If you have just placed a holding deposit you may want to change some of the details you first entered, including your contact details and add a co-tenant or guarantor.
You can see how to change your own personal details here.
The lead tenant can add a co-tenant or guarantor by signing in to your account and choosing 'My Tenancies' from the main dashboard (below) and then 'Holding Deposit Placed - Manage Application'.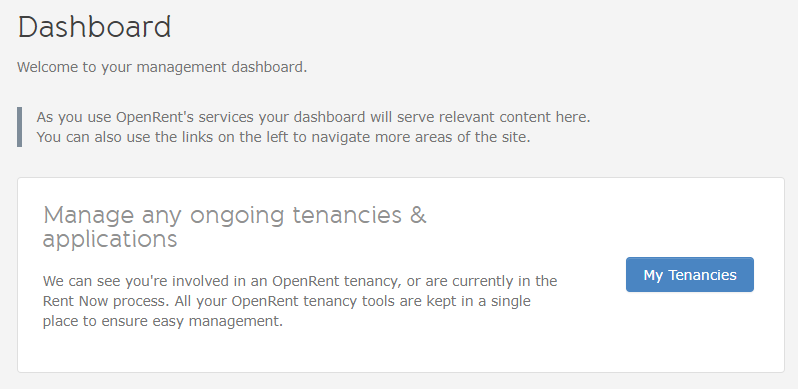 You can then choose to 'Add a Co-Tenant' and 'Add a Guarantor' from here:
2. Accepted holding deposit and at referencing stage
You can still add a co-tenant or a guarantor following the above steps at this stage and change your own details at any point by choosing 'Edit Profile'.
If you would like to change any of your referencing information you can get in touch with the referencing team via the contact details provided on this dedicated page on your OpenRent account.
Your landlord will be able to edit anything else on the application at this point including:
Changing the status of an applicant to a guarantor from a tenant, and vice versa.
Removing a tenant or guarantor completely
Add or request a guarantor
Cancelling reference requests for certain tenants or guarantors
Changing the reference type from a speedy to a comprehensive reference, and vice versa
If you are looking to change parts of the tenancy agreement such as the rental or deposit amount, or the start date, your landlord can do this at the next stage.
3. Contract signing stage
Please speak directly to your landlord if anything on the contract isn't expected, they can edit the following at this stage:
Rental Amount
Deposit Amount
Address
Custom Clauses
Add a guarantor/tenant
Their name
Move in date
Fixed term and break clause
Maximum no of occupants
Landlord notice address
You will be notified via email of any changes, and anyone that has already signed the contract will be asked to re-sign with the correct information.
4. Pay Deposit and Rent Stage / Rent Now is complete
At this stage any changes to the contract can't be made without our involvement. If you think any changes should be made now then we advise you get in touch with your landlord directly to discuss any issues. They can then let us know and we'll confirm it with all parties before resetting the contract and recommending a surrender document is signed.
You can find your landlord's details by logging in to your account and heading to 'My Tenancies'.