As the landlord, you have complete control over the viewing process. You organise and conduct the viewings so you can meet all of your applicants face to face. By speaking with the applicants directly using any of the above methods, finding a day and a time that suits both parties is quick and easy.
Enquiries can come through from tenants searching either the portals or on OpenRent.
Rightmove & Zoopla
Calls and emails from tenants via Rightmove, Zoopla, or any other portal are handled by us. The details of all tenants who wish to arrange a viewing are sent directly to you.
To arrange a viewing, contact them directly to arrange a date and time. In addition, we also provide a booking system for viewings so you can enter them on your Enquiries page and add them to your calendar.
This facility is completely free, and if you use it, we'll inform the tenant and remind them 2 hours before the viewing (to make sure they show up!). This also helps with re-arranging times, and cancellations.
If they want to know more without arranging a viewing yet, then we will pass their questions onto you using our masked email service as described below.
OpenRent
There are two different ways a tenant can enquire about an OpenRent property, 'Book a Viewing' or 'Message Landlord':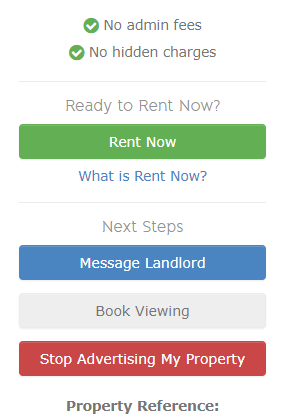 Booking a viewing
Email alert sent to landlord's registered email account
Text alert sent to landlord's mobile in sociable hours (Landlords can update preferences here)
Contact details passed on by the tenant
Messaging a landlord
Email sent to landlord's inbox (please check your junk or spam if you can't see these)
Landlord can reply directly to the email or via your 'Manage Enquiries' page
No text alert sent
Contact details of both parties remain anonymous to protect your privacy
If a tenant chooses to ask a question first, you can prompt the tenant to book a viewing by pressing the 'Prompt Tenant' tab on the relevant message thread as shown below:
This will work in the same way as the 'Book a Viewing' request and shows the time of the viewing on your enquiries screen and also sends a text and/or email reminder to the tenant two hours before the viewing time.
You can see some advice for conducting viewings here.
- Ultimate Advertising service