Pre-screening
Screening can be activated from your enquiries page, by clicking on Tenant Screening Options. We also activate it automatically on properties which receive a very large amount of interest in a short period of time. 

Pre-screening enables the following: 
When enquiring, applicants answer a series of questions based on the exclusions you set when you created your advert. For example, tenants with pets or that are DSS tenants.
We will check they meet your criteria before allowing tenants to request a viewing of the property.
This ensures only quality enquiries are picked up, saving time for you and the applicant
Generally it's designed for popular properties where there is potentially a lot of interest from unsuitable candidates.
Does it put applicants off?
In our experience it only puts off enquiries that aren't suitable for your property.
If you're concerned that some tenants may be being put off by the screening system, you can simply relax the criteria on your listing edit page. E.g. if instance you set the advert to no pets you can change this instantly on the edit page.
What is the auto-reply option? 
Once you choose the Tenant Screening Options tab, you will also see a function for an auto-reply as shown below.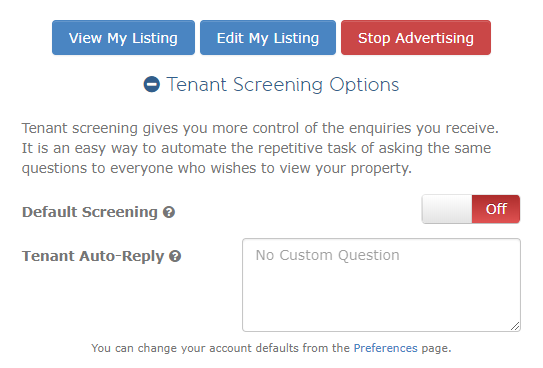 Here you are able to put in an auto reply which will be sent once to all new enquiries that request 'Book a viewing'. Here you can include any relevant details such as the times available for viewings, your contact details or even a message to say you usually respond within a certain amount of time. You might also want to ask your own specific questions to applicants that aren't included in the standard screening... it's up to you!