When using Rent Now, you use our standard contract, which includes a 6 month break clause under which either party can give the requisite notice to end the agreement.
How does it work?
The standard break clause can be activated at the 4 month point of our AST, by either party giving 2 months' notice. If you set, for example, an 8 month break clause, either party can give their 2 months notice at the 6 month point.
Assuming you are using the standard OpenRent contract that has a fixed term of 6 months and a break clause at 4 months, the break clause will work in the following way:
Tenant or landlord will give notice to the other party on or before the 4 month point of the fixed term by giving 2 months' notice.
If either party gives the notice before the 4 months, it will only come in to effect at the 4 month point.
The 2 months notice will be carried out as the last 2 months of the fixed term tenancy and the tenants will leave on the last day of the fixed term of 6 months.
This is also explained in Section 12.6 of our tenancy agreement here.
Does a tenancy have to include a break clause?
We advise including the break clause because we don't recommend having a fixed term which tenants (for whatever reason) can't get out of, and within which you as the landlord can't evict the tenants.
Although very rare, from our experience this is an extremely undesirable position to be in. In the worst cases, it can result in a substantial loss of time and money, and also increase the potential for damage to your property.
Editing the break clause
Although the break clause is there to protect landlords and tenants alike, we still give landlords the option to remove it. At the contract-signing stage of Rent Now, you will be able to edit the break clause and at what point it can be initiated, or you can remove the break clause altogether. This is done by navigating to the bottom of the contract edit page and clicking on Advanced Contract Settings: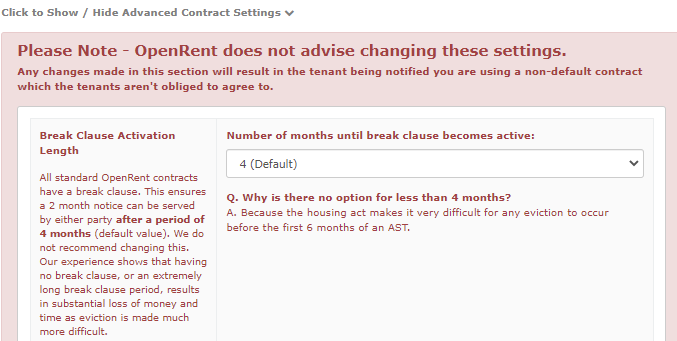 - View the OpenRent Contract (AST)