Amending details on the tenancy agreement
We provide a tenancy agreement within our Rent Now service. Here is a sample copy and you can also view the stages of Rent Now here.
If you're looking to update features such as the fixed term and move-in date, you can do this by clicking Edit Contract.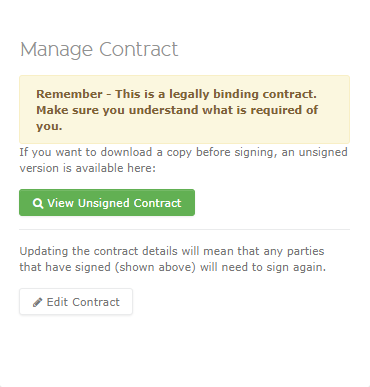 Making advanced changes to your contract
We provide an AST that is broad reaching and reflects industry best practice in terms of protecting the interests of both parties. As such, we do not advise changing the Advanced Contract Settings and changes made are not endorsed by OpenRent.

Making changes will result in the tenant being informed of the use of a non-default contract, which they are under no obligation to sign.

We appreciate some landlords do want this flexibility, so should you wish to amend the break clause, add in custom clauses or specify rent in advance, here's how.

Upon clicking Edit Contract, scroll to the bottom of the page and expand the Advanced Contract Settings.



Once expanded, you can proceed to amend the break clause, rent in advance, add custom clauses and change the rent payment date.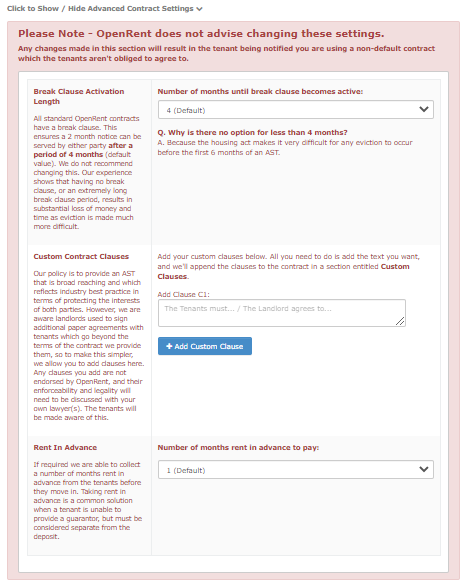 It's important to note that we advise against using the custom clause section to overrule any clauses in our standard contract. OpenRent will not look over clauses added, or ensure they are legally sound, so use at your own risk!
What you can't change
We provide a tenancy agreement that is broad reaching and reflects industry best practice, so the main clauses of the contract are not editable. These include:
The main body of the contract (clauses such as tenant and landlord obligations)

Notice Period