What is the OpenRent Tenancy Agreement?
We provide a tenancy agreement within our Rent Now service. Here is a sample copy. The editable parts are in blue.
The editable version will become available to the landlord when a Rent Now application is in progress and reaches contract-signing stage. Before then, you can read the sample copy.
- How to start a Rent Now application
- What Stages Are there in Rent Now?
- OpenRent Contract (AST) Sample Copy
At this point, we will generate a contract based on the information placed in your listing. This can be edited at any time before you sign it, including the amount of rent and deposit.
Editing the Contract & Custom Clauses
You can make amendments to the contract by clicking Edit Contract.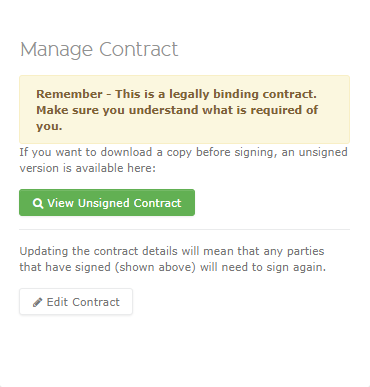 The landlord can add free text to the contract to customise it. It is not possible to remove clauses from the contract, but you can add any new clauses that you wish.
You can see our guide on custom clauses here.
Note that while we keep a close eye on our own clauses, we won't have scrutinised your own custom clauses, so use at your own risk!
Our general policy is to provide an AST that is broad-reaching and in line with industry best practice in terms of protecting the interests of both parties. As such, we don't feel custom clauses should be required.
If you did want to add custom clauses, heeding the warning above, you can do so at any point during the contract signing phase of Rent Now. This function is available under the Advanced Contract Settings at the bottom of the page.
Note: You cannot use an entirely different Tenancy Agreement within Rent Now, as our contract refers to specifics about how we handle the tenancy deposit, collect the first month's rent, etc.